Dave White Cabin Fast Facts
Summer hiking : 5 km from 4×4 access road.
Elevation gain: 250M (800′)
Cabin Elevation: 2190M (7117')
Winter sledding: 20 km
Maximum stay: 4 nights
Photos
Check out the Dave White Cabin photo gallery.
Map Reference:
82 K/10 Howser Creek
CAA Bulletin:
Latitude & Longitude Coordinates:
50° 39′ 51″ N 116° 32′ 40″ W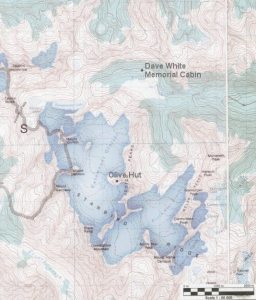 Topographical maps of the Kootenay Land District may be ordered from Service BC.
The B.C. Forest Service Rocky Mountain Forest District offers free Recreation Maps that will show most of the current roads. It is advisable to check with the CVHS on the status of the roads on our Access Updates tab before heading in to a hut.
Details
The Dave White Memorial Cabin was built by the Columbia Valley Hut Society in the fall of 2001. Dave White was an avid outdoor recreationalist who lost his life in the winter of 2001 across the ridge above this hut.  The society agreed unanimously that this cabin should be named in his honour.
The cabin requires some route finding to access in summer, no well defined trail exists beyond the beginning of the meadow. The route involves two creek crossings which can be challenging in high water conditions.   It sits on a rocky knoll surrounded by dense mature timber about 50 meters above Forster Creek meadow.  Its location and design were chosen to take full advantage of the sunlight and of the panoramic view of Catamount Glacier.  There are many options to choose from for great day skiing from the hut.  Skiers with advanced backcountry skills will find the terrain above the cabin complex, steep and potentially dangerous.  Those who lack the appropriate skills are strongly advised to find terrain suitable to their level of expertise.
The Forster Creek drainage is unique in that it is one of the few areas where numerous user groups share the natural resources.  The CVHS, the Windermere Valley Snowmobile Society, the village of Radium Hot Springs and R.K. Heliskiing all have an interest here.  Expect to share your backcountry experience with others when visiting this drainage.
Formal Government Objectives: "Manage Dave White Cabin recreation site for a forested, semi primitive non-motorized recreation experience.  The cabin and the trail to the cabin will be maintained; the natural vegetation will be conserved.  Opportunities for overnight cabin accommodation to support ski touring, hiking, and mountaineering will be available at the site.  Cabin reservations required."
Snowmobiles are generally needed for travel up Forster Creek to the Hut.  The trail is groomed from the new parking area at km 27.7 to the summer trailhead at Forster Creek footbridge.  There is a $20 toll for the use of the groomed trail.  Total riding distance of 19 km.
Snowmobiles are prohibited above and south of the base of the steep access ramp to Catamount Glacier (this includes all of Catamount and North Star Glaciers – restriction signs are posted) until Mid February each year.