Olive Hut Fast Facts
Distance: 7.5 km
Cabin Elevation: 2670m (8678′)
Elevation Gain: 945m (3071′)
Maximum stay 5 nights
Sleeps 4 maximum.
Map Reference
82 K/10 Howser Creek
CAA Bulletin
Latitude & Longitude Coordinates
50° 37′ 54″ N 116° 33′ 28″ W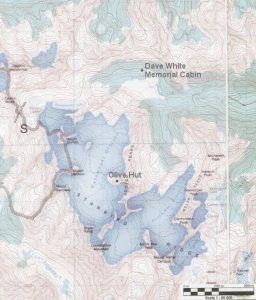 Topographical maps are available from Service BC.
The B.C. Forest Service Rocky Mountain Forest District offers free Recreation Maps that will show most of the current roads. It is advisable to check our Access Updates tab for the status of the roads you will be driving prior to heading in to a hut.
Critical Info
Winter Olive Hut visitors should be aware that illegal snowmobile activity on Catamount Glacier and Northstar is frequent.  As of 2013, Catamount Glacier is open to snowmobiles after February 14th, North Star remains closed.
Link to Ministry of Forests information page
Access is by reservation only.
The Olive Hut, perched high above the Forster Basin on the edge of the Catamount glacier,  serves as a high elevation base for climbing, complex traverses of Catamount and North Star Glaciers, and ski mountaineering.  It sits on a granite rib on the east edge of the glacier and provides a panoramic view of Mt. Harmon, Black Fang and other nearby peaks.
Built in 1991, this small stone hut was a joint project between the B.C. Forest Service, the Olive family and the Columbia Valley Hut Society.  It was built in memory of Peter and Brenda Olive who died in separate mountain helicopter accidents.  Both were avid hikers and skiers who cherished their time in the mountains.
Only mountaineers and hikers with glacier travel experience should use this area.
The Olive Hut becomes crowded if party size exceeds 4 (suitable tenting space is also available).  Melting snow is the only on-site water supply.
Formal Government Objectives
"Manage the Olive Hut Recreation Site for an alpine, wilderness non- motorized recreation experience. The cabin will be maintained; the natural vegetation will be conserved. Opportunities for cabin accommodation to support ski touring, hiking, and mountaineering will be available at the site. Cabin reservations required. Access is by glacier travel and route finding, no trail is maintained."
Summer Access
Travel west of Radium Hot Springs on the Horsethief Forest Service Road for 13.5 km (alternatively, 18.5 km north of Invermere via the Westside road).  Turn right onto the Forster Forest Service road and park at the road's end trailhead at km 42. Conditions of back-country roads vary from year to year depending on government funding for maintenance and current logging activity. In the past, most of the road (with the exception of the last 3-4 km) has been passable by 2 wheel-drive vehicles. The hike begins with a footbridge crossing of Forster Creek. The route follows a trail along the south-west side of the valley bottom for about 3 km. Eventually you will reach fan-shaped terminal moraine of granite boulders. On the far side of this moraine you will see a rocky rib heading straight up to the left. The crest of this rib marks the beginning of the steep ascent to the hut. Another 3 km of glacier travel will bring you to the backside of the rock rib buttress that the hut is situated on. Estimated hiking time from the footbridge is 3-5 hours.
Winter Access 2015 – 16
Active Winter Harvesting will continue weekdays only, until March 2016.
Road users should consider monitoring Canfor VHF radio freq. 158.460  and call your kilometers.
New parking lot established at 27.7 km with outhouse and room for expansion.
current logging in Eve Creek at 27.7 junction.
Not hauling weekends or between dec 18th and Jan 2nd for holidays (may still be vehicular traffic for maintenance)
Ploughing never done on Saturdays but possible on Sundays early am if required for monday hauling.
 Once hauling completed in March, parking will return to 19 km unless WVSS chooses to have the road maintained up to the 27.7km
Snowmobiles are generally needed for travel up Forster Creek and then a 3 hour ski approach across Catamount Glacier (or a 20-minute helicopter flight from Invermere) .  The trail is groomed from the new parking area at km 27.7 to the summer trailhead at Forster Creek footbridge.  There is a $20 toll for the use of the groomed trail.  Total riding distance of 19 km.
Snowmobiles are prohibited above and south of the base of the steep access ramp to Catamount Glacier (this includes all of Catamount and North Star Glaciers – restriction signs are posted) until Mid February each year.